The surface quality of the thin films is tested using either atomic force microscopy (AFM) or scanning tunnelling microscopy (STM).
Atomic Force Microscopy
The next tree images are AFM images with lateral size respectively of 1.6 μm x 1.6 μm, 1.1 μm x 1.1 μm and 1.1 μm x 1.1 μm. The z scale is 5 nm for the first image and 3 nm for the last two.
Scanning Tunneling Microscopy
The next image is a 0.5 μm x 0.5 μm STM image of a 2 month old sample kept inside its box. The Z scale is 2 nm.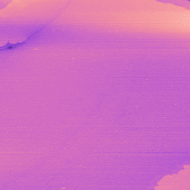 The size of the terraces may vary from one sample to another. We observe sometime terraces as large as 1 μm2. During the production process, we regularly control the surface quality of our films.
Epitaxial Au(111) thin films are grown in controlled high vacuum deposition systems using a magnetron sputtering technique. Details on the deposition technique can be found here. The gold source target is made of pure gold 99.99%. The films are grown at high temperature in a controlled argon atmosphere.
Epitaxial growth of thin films refers to extended single-crystal film formation on top of a crystalline substrate. The structural crystalline quality of the films is checked by X-ray-diffraction analysis. The next figure shows an example of a θ-2θ X-ray analysis performed on a typical 70nm thick gold film.
The analysis shows a pure (111) growth with a c-axis lattice parameter of 2.36 Å. Moreover, the finite number of diffracting planes leads to oscillations of diffracted intensities whose period is related to the layer thickness. The occurrence of these oscillations around the (111) reflection indicates a high degree of crystallinity of the samples and allows us to precisely control the thickness of the films.
Substrates
Phasis gold thin films are grown on high grade muscovite mica sheets freshly cleaved. The quality of the mica is classified from V-1 to V-10 according to the ASTM international standard. V-1 is considered as the best quality. It is a visual system of classifying the quality of natural muscovite mica based upon relative amounts of visible foreign inclusion. At Phasis we are using muscovite mica with quality higher of equal to V-2. The mica sheets are cleaved just before their introduction into the deposition system. The thickness of the final cleaved mica sheets may vary from 0.080mm to 0.130mm. The mica cleaving process is of random nature and the final thickness of the mica sheets cannot be controlled with better accuracy.
Gold size and thickness
Phasis offers the gold films in various geometries and sizes. The largest gold deposited region is 2 cm x 2 cm and the smallest 4 mm x 4 mm. The complete list of available geometries can be found under products.
Cutting a gold thin film grown on mica into smaller parts degrades the gold surface. Mica is indeed a very hard material and thus difficult to cut. With the different proposed geometries, the cutting process becomes easier because it can be done in-between the gold areas without damaging the gold surface. It is thus possible to maximise the number of possible measurements. Do not hesitate to contact us if you have a request for a special gold geometry not proposed in our list. If you need cutting tools, you can get at Phasis special scissors with a titanium nitrate coating layer improving the cutting process. These scissors are very useful to cut thin sheets of mica.
The typical gold thickness we provide is 200 nm. With our experience, we know that 200 nm thick films present good surface quality. We can grow thinner of thicker films upon request. For very thin film however, the gold surface will present islands with holes in-between, the film being not thick enough to allow a better covering.
Shelf life
We observe that the quality of the gold surface degrades with time due to some contamination. In order to slow down this process, we package the gold thin films in pure nitrogen immediately after the deposition process. This procedure allows the extension of the shelf life of the product to three to four months. All our films are freshly grown, we keep no stock of this product and we strongly recommend the use of the films in a short time scale after reception.
Phasis provides gold Au(111) thin films on freshly cleaved mica substrates. The films are grown in controlled high vacuum deposition systems. The films present an extremely high degree of structural quality including surfaces with well defined terraces.
Phasis also provides gold on glass slides
Advantages of our products
Our substrates are ready to use, they are freshly grown just before being sent.
There is no need for an additional hydrogen flame annealing procedure.
Our substrates present large gold terraces.
Different gold geometries are available to meet your requirements and to maximise the number of possible measurements.
The gold source target is made of pure gold 99.99% and substrates are grown in a clean and dedicated environment.
More about
Products
Catalog #
Product 
Gold geometry description:
Mica substrate dimension:
25.4 x 25.4 mm2 
Au covered
surface mm2
 Gold
Thickness


Picture of the gold
geometry
 
20020011
Au111 on mica
1 square 20 x 20 mm2
400.0
200 nm
 
20020013
Au111 on mica
4 squares 10 x 10 mm2
400.0
200 nm
 
20020015
Au111 on mica
8 rectangles 8 x 4 mm2
256.0
200 nm
 
20020016
Au111 on mica
4 stripes 4 x 22 mm2
352
200 nm
 
20020020
Au111 on mica
16 squares 4 x 4 mm2
256.0
200 nm
 
20020022
Au111 on mica
4 circles diameter 10 mm
314.0
200 nm
 
20020023
Au111 on mica
16 circles diameter 4 mm
201.0
200 nm
 
Limited Warranty
Au(111) thin film is a very delicate product with a limited shelf life. If the customer is not satisfied with the quality of the product at reception, we offer a replacement possibility on a one to one basis if the films are returned to Phasis and declared defective. This warranty no longer extend if the customer touch, anneal, cut, or treat in any way the gold surface potentially leading to a degradation of its surface. The warranty also falls if the samples have been kept outside their box for a long time and if the samples are older than their shelf life.